BBI 5.9 Cummins Injectors
Up to $50 Off MM3 or EFI Live Tuning Package with purchase of Injectors!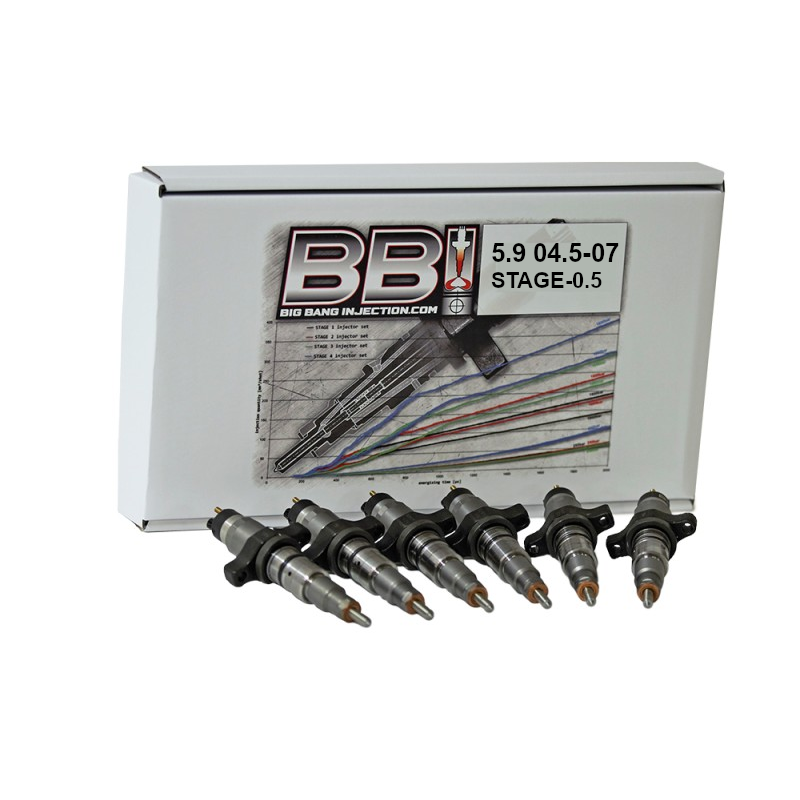 -New BBI 5.9 Cummins Injectors come with a 2 year unlimited mile warranty
-Remanufactured BBI 5.9 Cummins Injectors come with a 1 year unlimited mile warranty
About Big Bang Injectors:
BBI Injectors have been developed into the finest common rail injectors presently on the market; setting the standard for common rail injectors in performance and reliability.
Big Bang Injection was founded by two Austrian gentlemen with over 30 years experience in the common rail injector industry.  Both men were previously employed directly by Bosch in their research and development facility located in Linz, Austria.
Warranty:
My Own Experience:
I installed a set of remanufactured 0.5's in my MY05 (that I paid retail for) and I'm very impressed. Running worn out stock injectors was like the frog in boiling water… I didn't realize how bad they were until I installed the BBI's.  The BBIs fired so crisply I actually thought something was wrong with my truck.  It just turns out that's what good injectors sound like: a crisp clean combustion where you can clearly hear each cylinder fire instead of the dull drone of worn injectors.
These injectors made a huge difference on my truck and I definitely recommend them.
Tuning Discount:
Purchase a set of BBI Injectors with your 2003-2007 5.9 Cummins custom tuning order and get up to $50 off the cost of your tunes!  Discount will be applied at checkout.
Choose Your Year Below: