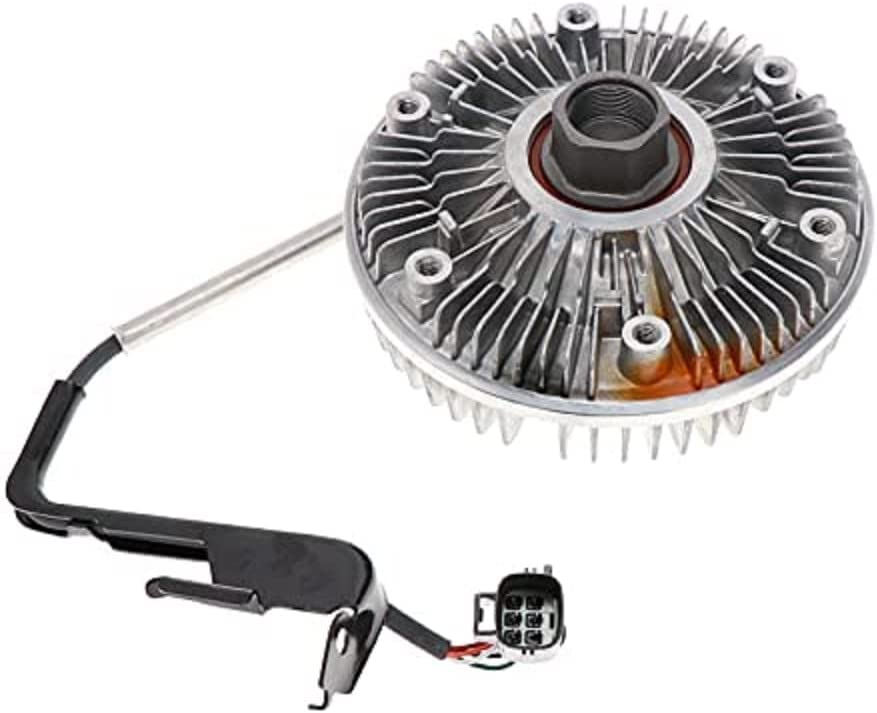 There are lots of posts in the forums and on social media regarding 3rd Gen 5.9 Cummins trucks with hotter than normal engines and/or transmissions.  Some of this can be attributed to driving conditions such as stop and go traffic or heavy hauling; but more often than not, a key issue is a failing fan clutch: Afterall, these trucks are at or nearing 20 years old now.
Cooling Stack
The systems that make up the cooling stack in your 5.9 Cummins are:
Radiator
Intercooler
Transmission Cooler
AC Condenser
Power Steering Cooling Loop
5.9 Cummins Fan Clutch Normal Operation:
There are 4 variables that are chiefly responsible for fan speed in the 3rd Gen 5.9 Cummins trucks (there may be slight variations between model years):
Engine Coolant Temperature

– Fan Ramp Up starts at 210DegF @ 850RPM to Max 2800RPM @ 255DegF

*5-9 Diesel Tuning Tow Tune Optimizes this Temp to Ramp up at 210DegF and Max Speed by 225DegF

Intake Air Temperature

– Fan Ramp Up starts at 24DegF Split between ambient air temp and Intake Manifold Air Temp @1200RPM to a Max of 2400RPM @ 29DegF Split

Air Conditioning System Status

– Fan Ramp Up starts at 230PSI @ 350RPM to Max 1200RPM @ 250PSI

Transmission Temp (48RE)

– Fan Ramp Up starts at 240DegF @ 350RPM to Max 3200RPM @ 248DegfF

*5-9 Diesel Tuning Tow Tune Optimizes this Temp to Ramp Up at 205DegF and Max Speed by 220F
As you can see there are a lot of variables at play, the highest commanded fan speed generally wins and the ECM electrically modulates and monitors the fan clutch to match the commanded speed.
Use The Above Values To Check Your 5.9 Cummins Fan Clutch
If your truck is meeting the values above and you are not seeing fan speeds in the ranges listed; you can be almost certain your fan clutch is shot.
Trust ONLY OEM Chrysler Fan Clutches
The budget aftermarket fan clutches sold on amazon and ebay are typically listed anywhere from $100-$200.  In my experience, they do a terrible job at modulating the fan speed and instead of a nice constant speed like an OEM clutch will provide, what you get is a constant on/off at full fan speed and the ECM tries to fix the problems caused by your cheap part.
A genuine fan clutch will have the model number of 55056990AC and be sold on a reputable site like Geno's Garage.  They can be found on ebay; but it's always a risk and ebay returns are always a hassle in my experience.
https://www.genosgarage.com/product/55056990ac/fan-clutch
Custom Tuning and your Fan
The You're probably noticing that some of the fan speed values above are less than ideal.  Custom tuning from 5-9 Diesel will address this issue by optimizing those variables to keep your engine and trans as cool as possible no matter what punishment you throw at it.
Learn more at the link below: